What we Offer our residents
We strive to bring our residents the best in comfort and care so that Phoenix Center truly feels like a home where your needs are completely taken care of.
Skilled Nursing care
We provide 24 hour skilled and sub-acute Nursing Care. Our nursing staff is available around the clock, to manage the care of our residents. Our Medical Director has many years of experience dealing with a wide range of chronic and acute medical conditions. We have wonderful programs dealing with varying levels of dementia as well as other psychological and social disorders.
Rehabiliation Services
Rehabilitation is a key component of The Phoenix Center. Our dynamic rehab team is devoted to top-of-the-line patient care. Our Director of Rehabilitation ran many rehab facilities and is a true expert in the field. Our rehab department is divided into two categories: short term rehab for residents who are returning home and long-term rehab for residents who are experiencing a decline in health and have the potential for being restored to a higher level of function.
Short term Rehab
Residents who come in following surgery or a medical event such as a stroke or fracture receive comprehensive therapy from our team of professionals. Our primary goal is to restore the residents to their prior level of functioning allowing them to return to their homes in the community. In addition to their rehabilitation we provide them with emotional support to help them through this difficult period in their life. Our team of professionals have extensive training and experience in rehabilitative medicine. Our team provides physical therapy, occupational therapy, speech therapy and audiology, post-operative orthopedic care, post-stroke training in self-care, post cardiac care and rehabilitation and restorative nursing care.
Long Term Care
As our long term population ages they sometimes experience a decline in activities of daily living. Our nursing staff, as well as our therapists are constantly monitoring each resident's level of function. If a decline is discovered, the patient is referred to the therapist who evaluates the resident for potential improvement. The residents that have potential are given a program tailor made for their needs to help them regain prior level of function. Our therapy program helps the residents to maintain a high level of function allowing them to experience their old age with independence and dignity.
Palliative, comfort, and hospice care
We provide palliative and comfort care for residents and families facing end of life issues. Services include pain management, comfort and safety care, psychological, emotional and spiritual support. Our specialized medical and dietary staff addresses all symptoms of the resident disease process to provide maximum comfort to our residents during this difficult time. We have contracted with several hospice services to provide on site hospice care.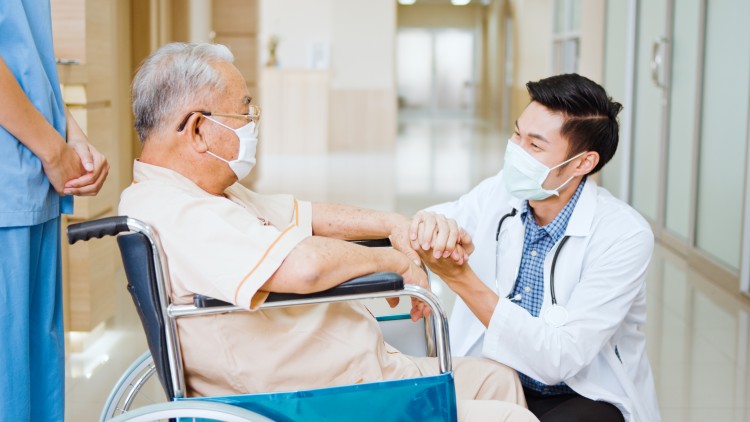 Physician Services
Under the leadership of our experienced medical director, our team of physicians provide routine and acute medical care to our residents. Physician services are available twenty-four hours a day seven days a week. All treatment plans for our residents are under the guidance of our physicians and they are intimately involved in all aspects of care.
Social Work Services
Each resident is assigned a social worker upon admission. The social workers are provided to residents and families to assist in dealing with issues related to placement, adjustment and discharge planning. Our social work staff is readily accessible to families for telephone and in-person consultation. The social workers advocate on behalf of the residents and treat them like a member of their own family.
Recreational Activities
Our passionate activities staff offer a variety of programs based on a resident's interests, needs, and abilities. Together, they use a person-centered approach to accommodate our resident's various lifestyles. Events take place daily throughout the facility and in our spacious resident lounge. Individualized one-on-one activities are also provided daily in the resident's room for a more personalized experience to meet all social, cognitive and sensory needs. We create opportunities for residents to socialize and engage as they participate in community life. In addition to daily events in the facility, residents are given the opportunity every month to go on an outing such as church services, special events, or community clubs.
Dietary Services
Dietary services are provided by our Registered Dietitians and the Food Service Director. The dietitians make sure the residents are getting the proper nourishment and eating healthy. Our Food Service Director takes great pride in making sure the residents are receiving tasty food. She meets with the residents often so she can receive their input and make any possible accommodations. We provide a large number of therapeutic diets based on the physician orders. Nutritional counseling is provided to help the resident better understand the nature of their dietary needs as a result of their diagnoses.
Additional Medical Services
Physical Therapy
Occupational Therapy
Speech Therapy
Orthopedic Rehabilitation
Respiratory Care
Tracheotomy Care
Stroke Recovery
Pain Management
Diabetes Management
Wound Care / Wound Vac
Psychological Services
Social Work Services
Suboxone Therapy
Post – Surgical Care
I.V. Therapy / PICC
Enteral Nutrition / TPN
Long Term Care
Palliative / Comfort Care
Hospice
Amenities